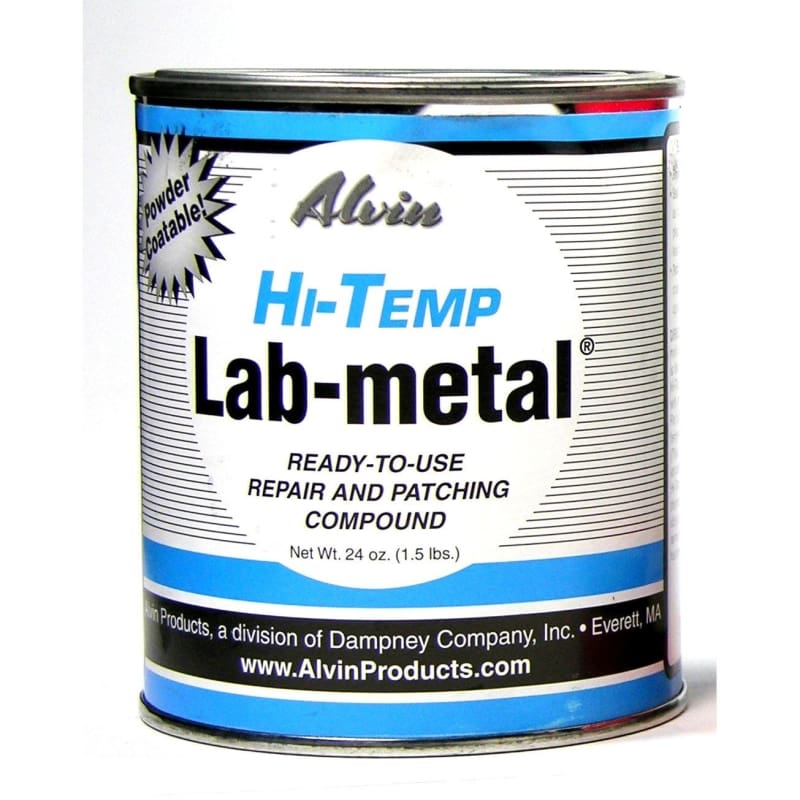 11102, Alvin Hi-Temp Lab Metal, 24 oz Can
$ 82.99
11102, Lab-Metal High-Temp, 24 Oz. Can

Flammability Hazard Until Cured-Ships via Ground Services ONLY!
(Download the High-Temp Lab Metal Information Sheet)
Safety Data Sheet

Applications: Hi-Temp Lab-metal is applied directly from the can with a putty knife or similar tool. No two-component mixing or measuring is necessary. Many applications may be made from a single can. After each use, to prevent Hi-Temp Lab-metal from hardening in the can, pour Lab-solvent over the remaining Hi-Temp Lab-metal contents, then cover tightly. (Stir the solvent into the Hi-Temp Lab-metal before using again). Lab-solvent is also used to thin Hi-Temp Lab-metal for brush-on applications.

Hi-Temp Lab-metal must be stirred thoroughly before use. No additive is needed; the repair compound hardens upon exposure to air. Hi-Temp Lab-metal is a viscous but easily spreadable paste. Upon opening the can, if the Hi-Temp Lab-metal appears stiff, stir in a capful or two of Lab-solvent to restore the product to its appropriate consistency. For any application, the surface must be clean and dry; free of paint, oil, dirt, and any extraneous materials. Roughening the surface provides superior adhesion. Hi-Temp Lab-metal's shelf life is one year in factory-sealed cans. Store in a cool place. See MSDS for safe handling.

Hi-Temp Lab-metal may be applied with a putty knife, spatula, trowel, caulking gun, or rubber squeegee. When filling deep holes or cavities, the putty should be applied in thin layers, less than 1/4" thick. Allow each layer to dry for at least 24 hours. Dry time may be accelerated with force curing, infrared lamps.This depends on air temp, type of metal.

To apply Hi-Temp Lab-metal with a paint brush, it must be thinned to paint consistency with Lab-solvent, then applied with light brush strokes; not worked over as with paint. Dipping the brush into Lab-solvent periodically will keep the bristles free and prevent clogging.

Depth of application determines drying time; hardening occurs as the diluent evaporates. The application must air dry for at least 24 hours, or until the product has hardened to a metal state.

In order for Hi-Temp Lab-metal to completly harden after a 24 hour air dry time, it must be exposed to a minimum temperature of 425°F for a period of at least one hour depending on thickness of application. (The curing process may be achieved by a more gradual "heat-up", as in the repair of an industrial oven or exhaust. In this case, as the oven is heating, the Hi-Temp Lab-metal repair is curing.)

Hi-Temp Lab-metal is recommended where original Lab-metal may not withstand the extreme heat. Originally developed due to requests from the foundry industry, industries such as metalworking, powder coating, welding, fabricating, heating, construction, auto repair, die casting, mold refinishing, and sheet metal production and finishing have found uses for Hi-Temp Lab-metal.
Foundry core boxes
Duct work
Radiators
Mufflers, exhaust systems, engines
Molds
Wood and coal burning stoves, grills, industrial ovens
Dented metal, prior to powder-coating - when Lab-metal cannot be used due to the extreme temperatures
Notes:
Hi-Temp Lab-metal is a one part epoxy, ready-to-use right from the can
Developed for difficult repairs subject to excessive heat, Hi-Temp Lab-metal withstands temperatures as high as 1000°F
Hi-Temp Lab-metal adheres to most metals. Once hardened, it can be machined, ground, filed, and sanded. Buffed to a satin smooth finish, Hi-Temp Lab-metal leaves an undetectable repair. Hi-Temp Lab-metal is impervious to the attack of rust, rot, and mildew. It is not affected by varying climatic conditions, and the hardened metal can be painted over -- even powder-coated

THIS ITEM SHIPS VIA GROUND SERVICE ONLY!


Great service
Great service, we even got a refund on the shipping cost, I'll definitely buy here again
Good Service!
I have ordered from Intech Bearing a few times now and have been satisfied each time. The Alvin Hi Temp Lab Metal works well and easy to apply. I used it on an aluminum twin engine outboard motor bracket that had some pits once it was sand blasted. The lab metal fixed all imperfections so it could be powder coated and the blemishes not show through. Good product!