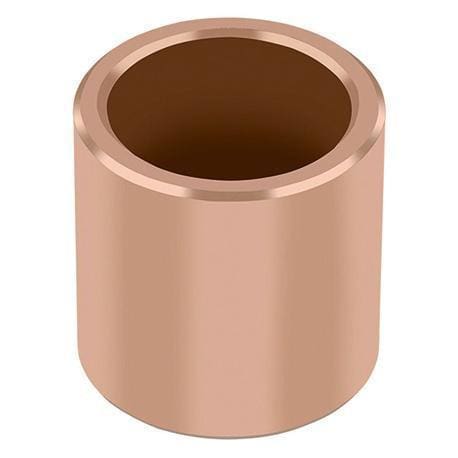 0.50"X0.75"X1.00" 1/2" X 3/4" X 1", Part# EP081216, Sintered Bronze Bushing
$ 1.60
EP081216, BRONZE BUSHING 1/2" X 3/4" X 1"
Bunting Oil-Filled P/M
Bronze Bearings
Stock Bearings

Bunting Bearings offers a complete line of stock plain bearings, flange bearings and washers made of P/M bronze. Bunting sintered bronze stock bearings have long conformed to ASTM chemical and physical properties, and are the first to include all ASTM standard sizes to ASTM recommended dimensions and tolerances. After forming, sintering and sizing, the bearings are vacuum impregnated with SAE 30 oil that provides lubricant which is metered from the bearing to the shaft during rotation. Standard off-the-shelf oil impregnated bronze bearings should function satisfactorily in temperatures ranging from 10°F to 220°F. 
| | |
| --- | --- |
| Stock Item?1 | Yes |
| Nominal Size I.D. | 1/2 in |
| Nominal Size O.D. | 3/4 in |
| I.D. Min | 0.5010 in |
| I.D. Max | 0.5020 in |
| O.D. Min | 0.7520 in |
| O.D. Max | 0.7530 in |
| Length | 1 in |
| Min. Temperature | 10 ºF |
| Max. Temperature | 220 ºF |
| P Value (Max.) | 2000 |
| V Value (Max.) | 1200 |
| PV Value (Max.) | 50000 |