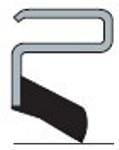 1.750"X2.623"X.250" (17461, HM21) CR SKF Oil Seal
$ 13.25
Key Attributes

SEALING MATERIAL(S)

Nitrile rubber (NBR)

NUMBER OF LIPS

1

CASE MATERIAL

Steel

SOLID / SPLIT

Solid

DESIGN

HM21
Lubrication

LUBRICANT

Grease
Miscellaneous

SHAFT DIAMETER

1.750 in

HOUSING BORE DIAMETER

2.623 in

SPRING TYPE

None

INSTALLATION TYPE

Housing press fit

LUG LENGTH

None
Antique loader cylinder seals
Web page catalog was helpful in finding seals for an antique loader. So far the fit looks correct and I plan to use intact for the remaining seal replacements
Hi David,
We are happy to be helpful!
Thanks Again!
Steve
Search for obsolete seal
I looked for a obsolete bearing seal at all the local marinas, trailer part stores, auto parts stores and any other place I could think of. This website was the only place I found it. Good prices, good delivery time. I would recommend to others
Hi Mr. Melvin Smith,
Thanks for taking the time to write a great review!
We're here to help,
Best Regards,
Steve