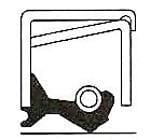 2.375"X3.876"X.438" (23844, CRWH1) Oil Seal
$ 15.76
23844 SKF CR OIL SEAL 2.375"X3.876"X.438" (23844, CRWH1) Oil Seal
Perfect fit
Needed a seal for a custom part. These fit perfectly. Great quality part from SKF. Happy that Intech Bearing had them in stock and got them to me in time to wrap up my project.
Thanks Mr. Hagerman,
We greatly appreciate the positive feedback. We do our best to earn it.
Regards,
Steve