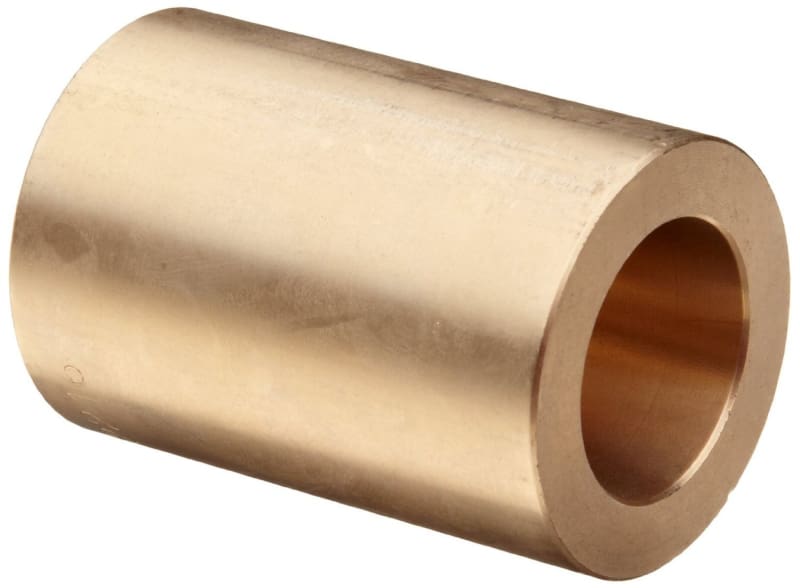 0.50"X0.625"X1.00" 1/2" X 5/8" X 1", Part# CB081008, Cast Bronze Bushing
$ 2.55
CB081008 BRONZE BUSHING 1/2"X5/8"X1" 
Bunting cast bronze bearings are machined from continuous cast C93200 (SAE 660) bronze for superior quality and performance. The continuous casting process assures a uniform bronze structure throughout the bearing, free from porosity and hard particle inclusions commonly found in other cast processes.

Our standard bearing line features over 900 sizes, carried in stock at Bunting Bearings and Authorized Distributors.These standards provide off-the-shelf economy for most applications, and may be easily resized, oil grooved, or graphited to meet special requirements.
| | |
| --- | --- |
| Stock Item?1 | Yes |
| Nominal Size I.D. | 1/2 in |
| Nominal Size O.D. | 5/8 in |
| I.D. Min | 0.4990 in |
| I.D. Max | 0.5010 in |
| O.D. Min | 0.6270 in |
| O.D. Max | 0.6280 in |
| Length (±0.005in) | 1 in |
| Max. Temperature | 500 ºF |
| P Value (Max.) | 4000 |
| V Value (Max.) | 750 |
| PV Value (Max.) | 75000 |